Find Your Unique Experience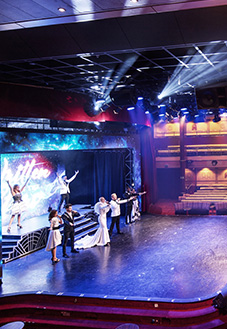 Broadway Experience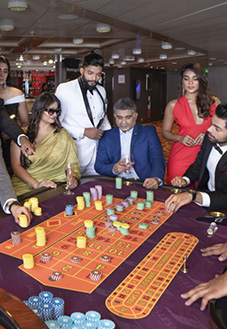 Free Entry at Casino
Vibrant Nightfree at Dome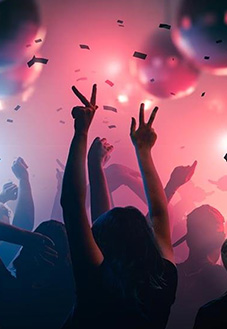 DJ Night Life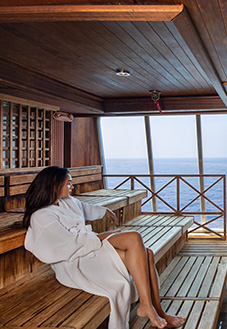 Invigorating Spa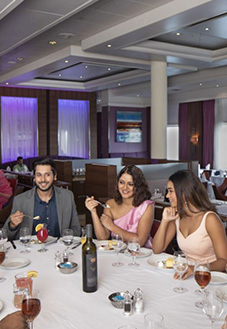 Jain Food Available
Customized Events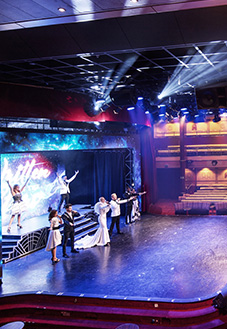 Broadway Experience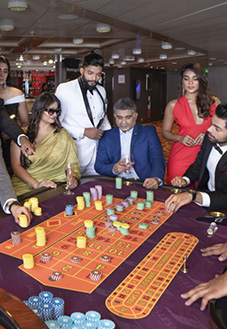 Free Entry at Casino
Vibrant Nightfree at Dome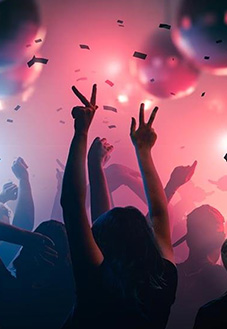 DJ Night Life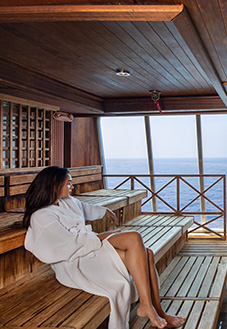 Invigorating Spa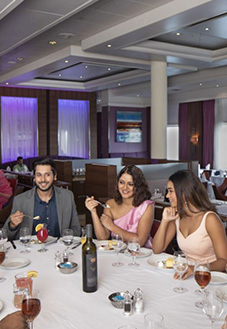 Jain Food Available
Customized Events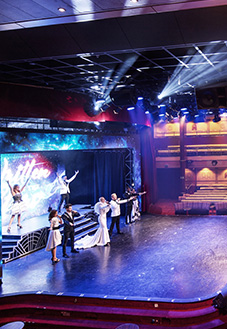 Broadway Experience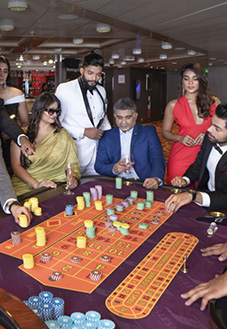 Free Entry at Casino
Vibrant Nightfree at Dome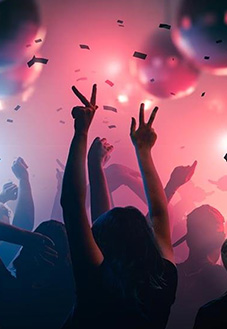 DJ Night Life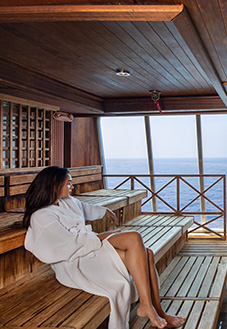 Invigorating Spa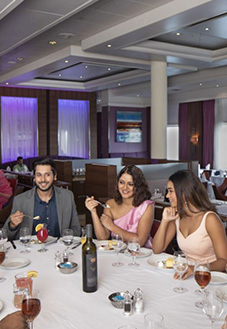 Jain Food Available
Customized Events
MUSCAT CRUISE
Far from being an ultra-modern desert city, Muscat is where turquoise waters meet old-world charm. Sitting on the Gulf of Oman, this charming city is surrounded by mountains on one side and the ocean on the other and is home to many impressive works of architecture, stunning natural landscapes and friendly locals. This beautiful capital of Oman is a unique example of a modern commercial city existing in harmony with its traditional culture. From
.........Read More
Far from being an ultra-modern desert city, Muscat is where turquoise waters meet old-world charm. Sitting on the Gulf of Oman, this charming city is surrounded by mountains on one side and the ocean on the other and is home to many impressive works of architecture, stunning natural landscapes and friendly locals. This beautiful capital of Oman is a unique example of a modern commercial city existing in harmony with its traditional culture. From beautiful architecture to ancient preserved historical artifacts, the lively and vibrant atmosphere of this magical place is bound to leave a lasting impression on you. With its breathtaking scenery, year-round sunshine and tradition-rich past, Muscat is a must-visit country. Jalesh Cruises presents a perfect opportunity for travelers to create beautiful memories in this city that is a complete entertainment hub.
Experience the Richness of Omani Hospitality
You won't want to miss exploring the beautiful city of Muscat that's blessed with amazing attractions and magnificent beaches. What's a better way to get entertained by delightful dolphins? Tour the North side of Oman including the wonderful village of Nakhl. If this is your first time to the region, check out the roller coaster ride in the Desert Safari. Explore Nizwa fort while riding through the ancient souk of Mystical Muscat and learn more about the culture & history of the vibrant capital.
About Jalesh Cruises
Experience the joy of cruising with elevated luxury and convenience aboard India's First Premium Luxury Cruise Ship 'Jalesh Cruises'. With an aim to provide you with "the finest experience not only in cruising, but in all of luxury travel," your Jalesh cruise vacation will be one to treasure for a lifetime. The premium cruise covers popular domestic tourist places such as Mumbai, Goa, Diu, Ganpatipule, Mormugao, as well as international destinations such as Dubai, Muscat, Abu Dhabi, Khasab and Bahrain, with many more new destinations being added to its exciting itineraries.
The 70,285-ton, 14 deck ship can carry up to 2,000 passengers and has a total of 837 cabins; housed in 36 mini suites, 162 balcony rooms, 430 ocean view rooms and 209 interior rooms. There are also special cabins and facilities for senior citizens and differently abled passengers. Jalesh Cruises offers high-quality accommodation such as mini-suites, cabins with ocean view and balcony, interconnecting rooms; all featuring plenty of amenities, five-star dining, award-winning spa facilities and world class entertainment such as broadway musicals, burlesque performances, magic shows, blockbuster movie screenings, stand-up comedy, casino & much more. They also offer excursion options for vacationers who can take tours and see the sights of their port destinations safely and easily. With 24/7 dining options, Jalesh Cruises boasts 14 restaurants and 9 bars and lounges with a dedicated cuisine for Jain guests. In fact the luxurious passenger ship has an exclusive area dedicated for kids and teenagers.
You can spend time at the casino, dip into its pool, watch a movie at the theatre, visit the comedy club or their in-house musicals, flex your body at the fitness club or just lounge in the many bars when you're not enjoying shore excursions. All these offerings makes this cruise ship perfect for families, solos, couples, groups and older folks who just want to relax and travel in the lap of luxury.
JALESH CRUISE MUSCAT EXCURSIONS
Discover Traditional Muscat (MUC01)
Muscat presents you with a fascinating blend of medieval, traditional and modern architecture. Set out on a stroll and admire the exterior of the stunning Grand Mosque and the Royal Opera House. Following a visit to the Natural History Museum also lets you explore the unique Whale room. Capture historic memories with scenic photos of the Sultan's Palace, the Jalali and Mirani Portuguese forts. The artefacts of the Bait Al Zubair Museum highlight the fascinating history of Muscat to leave you spellbound. Cut a deal with the local traders as you bargain for traditional Omani goods at the Muttrah Souk - an authentic experience.
Muscat Beach Escape (MUC02)
This is your chance to get away, soak up the sun and relax at the beautiful Oman Dive Centre Beach. Unwind on sunbeds as you absorb the tranquil times at the beach. You could also indulge in a refreshing dip during this wonderful 3-hour seaside getaway. Refreshments and a local escort to guide you on-tour lets you be consumed in the magnificence of Muscat.
Dolphins Watching (MUC03)
Seize an incredible opportunity to witness these extraordinarily intelligent animals in their natural habitat as they delight your senses with their playfulness. The high seas of Muscat provide moments of thrill as you coast through breezy waters while spotting a myriad of dolphin species like the Bottlenose and Spinner. The excursion is a limited-availability offering, so we do recommend early bookings.
Desert Safari (MUC05)
Gear up for a thrilling 4-wheel vehicle drive through the highs and lows of the spectacular Hajar Mountains and the Wahiba Desert. Meet & greet the local Bedouin families – one of the early inhabitants of Arabia, and enjoy lunch in an authentic desert camp with facilities for freshening up.
Snapshots of Muscat (MUC06)
Embark upon a quick tour to let you save time while exploring the nitty-gritties of Muscat. Discover the stunning architecture of the Grand Mosque, followed by a memorable stop by the Sultan's Palace. Put on your bargaining cap while you indulge in traditional shopping at the Muttrah Souk.
Read Less
FAQ
How long does my passport need to be valid for?
All passengers are required to possess a passport valid for 6 months beyond the conclusion of their trip.
Which other destinations does Jalesh Cruises sail to?
The Luxury Cruise covers popular domestic tourist places such as Mumbai, Goa, Diu, Ganpatipule, Mormugao, as well as international destinations such as Dubai, Muscat, Abu Dhabi, Khasab and Bahrain, with many more new destinations being added to its exciting itineraries.
Can Akbar Travels help me with the visa to Muscat?
Yes. We support our guests in arranging visa, hotel booking and airport transfers. If you need any extra service, please kindly contact our Cruise Experts for more information.
Is Muscat safe?
The people of Muscat are warm, friendly, welcoming and take great pride in their country. The spirit of hospitality is widespread and Omanis have genuine desire for you to experience the very best the country has to offer.
Why should I sail with Jalesh Cruises over other cruises?
Jalesh Cruises is suitable for anyone dreaming of a perfect cruise vacation. The ship promises great entertainment, with live music, a disco, a casino and a theatre. If you'd prefer a more tranquil way to unwind, there is a relaxing spa offering massages, a sauna and the latest in advanced beauty treatments. The food is fantastic, ranging from authentic Asian, Mediterranean to trendy European. And to burn off the calories, you can make use of the state-of-the-art gym.
Are there any excursions offered?
Shore excursions are not included in the cruise fares and are available as an optional activity. Details will be provided after booking the cruise package.
I have more questions - how can I get additional information?
Please feel free to reach out to our friendly Cruise Experts at (022) 40743444, email at jalesh@akbartravels.com or whatsapp on (+91) 9324236456.
For more listed FAQ's, kindly click here