Find Your Unique Experience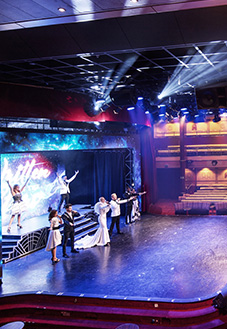 Broadway Experience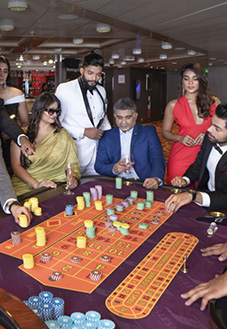 Free Entry at Casino
Vibrant Nightfree at Dome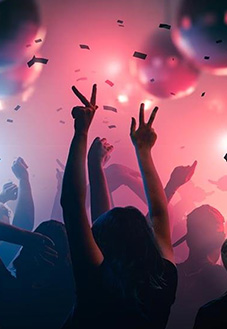 DJ Night Life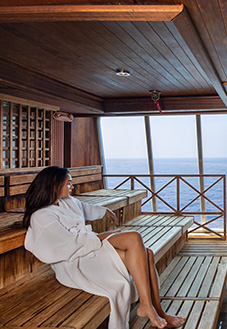 Invigorating Spa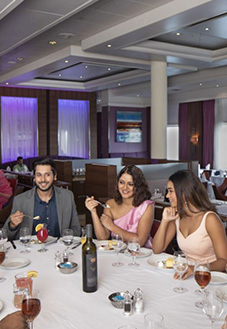 Jain Food Available
Customized Events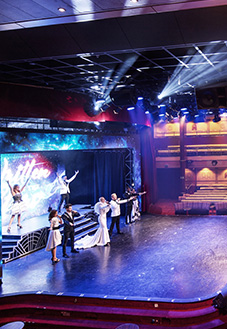 Broadway Experience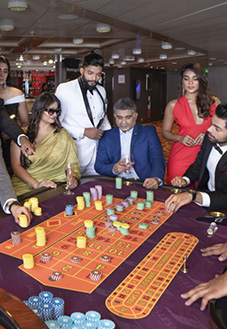 Free Entry at Casino
Vibrant Nightfree at Dome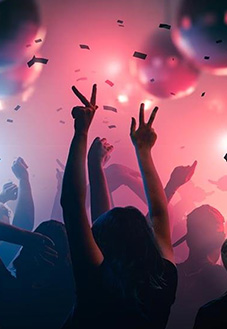 DJ Night Life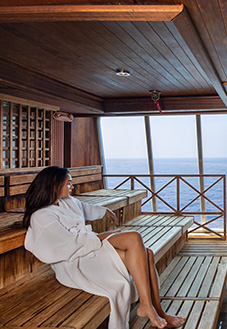 Invigorating Spa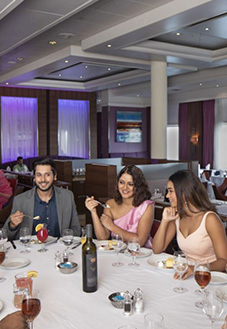 Jain Food Available
Customized Events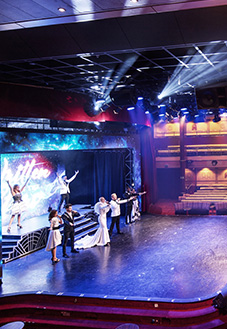 Broadway Experience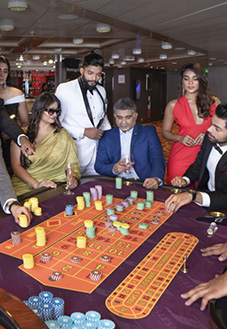 Free Entry at Casino
Vibrant Nightfree at Dome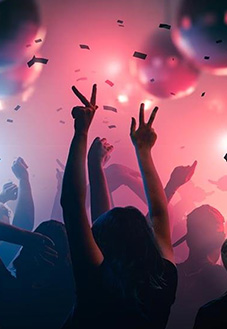 DJ Night Life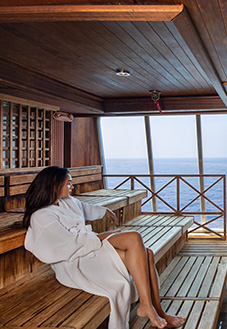 Invigorating Spa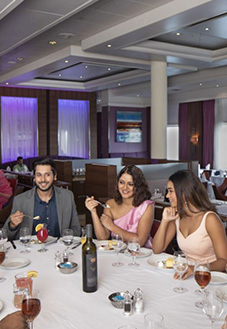 Jain Food Available
Customized Events
Jalesh Cruise
With the advent of large passenger jet aircraft in the 1960s, intercontinental travelers switched from ships to planes sending the ocean liner trade into a terminal decline. Certain characteristics of old ocean liners made them unsuitable for cruising duties, such as high fuel consumption, deep draught preventing them from entering shallow ports, and cabins (often windowless) designed to maximise passenger numbers rather than
.........Read More
With the advent of large passenger jet aircraft in the 1960s, intercontinental travelers switched from ships to planes sending the ocean liner trade into a terminal decline. Certain characteristics of old ocean liners made them unsuitable for cruising duties, such as high fuel consumption, deep draught preventing them from entering shallow ports, and cabins (often windowless) designed to maximise passenger numbers rather than comfort.
Queen Elizabeth 2 a luxurious cruise was reinvented as a luxury ocean liner following the advent of the jet airliner.Ocean liner services aimed at passengers ceased in 1986, with the notable exception of transatlantic crossings operated by the British shipping company Cunard line, catering to a niche market of those who appreciated the several days at sea. In an attempt to shift the focus of the market from passenger travel to cruising with entertainment value, Cunard Line pioneered the luxury cruise transatlantic service on board the Queen Elizabeth 2 ocean liner. International celebrities were hired to perform cabaret acts onboard and the crossing was advertised as a vacation in itself.
| | | |
| --- | --- | --- |
| Jalesh Cruise Packages | No. of Nights | Price* |
| Mumbai-Dui-Mumbai | 3 Days 2Nights | Rs. 18,580 |
| Mumbai-Ganapatipule-Mumbai | 3 Days 2Nights | Rs. 18,580 |
| Mumbai – High Seas - Mumbai | 3 Days 2Nights | Rs.20,450 |
| Mumbai –Mormugao (Goa) - Mumbai | 3 Days 2Nights | Rs.20,450 |
| Mumbai-Mormugao (Goa)- High Seas-Mumbai | 4 Days 3Nights | Rs.27,885 |
| Dubai-Muscat- High Seas-High Seas-Mumbai | 5 Days 4Nights | Rs.29,820 |
| Mumbai-Ganapatipule-Mormugao (Goa)-High Seas-Mumbai | 5 Days 4Nights | Rs.33,515 |
| Mumbai-High Seas-High Seas-Muscat-Dubai | 5 Days 4Nights | Rs.35,845 |
JALESH CRUISE
It's a brand of Jalesh Cruises Mauritius Ltd, is India's first multi-destination cruise line that has the best of entertainment shows, adventure activities and exotic authentic cuisines packed with international hospitality on the high sea. The cruise is designed & customised especially for the Indian audience and also for the foreigners visiting India to experience the flavour of Indian culture, food & hospitality. We look beyond and always wish to take 'Incredible India' on a global platform by contributing to the growth of tourism and allied businesses. Welcome to Jalesh Cruises for a memorable vacation.sed as a vacation in itself.
Entertainment
We don't want you to simply watch a show, we want you to experience it in Jalesh Cruise. With a brand new show, specially designed for the Jalesh Cruise guest, we will have you singing along and apart from the action from overture to final bows. World-class international performers are ready to blow you away and have you hungry for more. This is a spectacle not to be missed on Jalesh Cruise from Mumbai to Goa !
Relaxation
Relaxing your mind, body & soul on a cruise is the best gift you can give yourself by choosing from various cruise packages. Try our exotic spa therapy from professional therapists to wake-up your senses and refresh your soul. If you are looking out to stay fit even onboard, we have a fully-equipped gym with trainers to supervise your fitness regime on Jalesh Cruise.
Dining
Choose from different restaurants & bars from casual to connoisseur and relish dining on your high sea voyage. Indulge in gourmet food, luxury ambience and gorgeous interiors in the middle of the vast ocean from the latest Jalesh Cruise Packages.
Bars
You are sure to get spoilt with choices of Bars in the high sea in cruise from mumbai. Indulge in gourmet food, luxury ambience & gorgeous interiors in the middle of the vast ocean while sipping your favourite drink at Jalesh cruise Karnika.
Kids Teenager
Rest easy knowing that your children are having a blast with up-to-date content, specifically designed for kids in Jalesh Cruise Mumbai to Goa. For our slightly older age group we have a dedicated curriculum that keeps them engaged with games, educational pieces and exploration designed to bring out their creative sides in Jalesh cruise Karnika.
Casino
Located on Deck 8 at Jalesh Cruise, the Player's Casino will spoil you for choices. From most popular games like Blackjack, Poker, Casino War and Slot Machine Games to some amazing table games, this place is sure to rise up your excitement in new and exciting Jalesh tour packages.
Read Less
FAQ
Jalesh Cruises is designed to offer an authentic experience of Indian culture, hospitality and great food to both domestic as well as international travelers. It offers onshore destinations and excursions across Indian port cities such as Mumbai, Chennai, Kochi, Mormugoa (Goa), Vizag and international destinations such as Dubai, Abu Dhabi, Bahrain and Muscat, with new destinations being added.
There are multiple Jalesh cruise sailings to choose from such as:
Mumbai – Diu – Mumbai 3 Days | 2 Nights
Mumbai – Goa – Mumbai 3 Days | 2 Nights
Mumbai – Ganapatipule – Mumbai 3 Days | 2 Nights
Mumbai – High Seas – Mumbai 3 Days | 2 Nights
Mumbai – Goa – High Seas – Mumbai 4 Days | 3 Nights
Mumbai – Ganapatipule – Goa - High Seas – Mumbai 5 Days | 4 Nights
Mumbai – High Seas- - High Seas – Muscat – Dubai 5 Days | 4 Nights
Dubai – Muscat – High Seas – High Seas – Mumbai 5 Days | 4 Nights
The 2 nights Mumbai to Goa cruise is the most popular.
The cruise fare depends on the route and on the type of cabin you choose.
Cruise holidays are one of the most value holidays you could go on. Your accommodation and main meals are included whilst onboard. Selected activities and entertainment shows are also included in the price. Jalesh cruises also have special entertainment activities, restaurants & shows; however these are at an extra cost. For a comprehensive list of what is included; kindly talk to our Cruise Expert for your next cruise holiday.
Gratuity of USD 12 + (18% GST) per person per night is payable on-board
Any paid entertainment shows
All bars / All beverages ( hard and soft ) / Any Bar Packages
All Spa Packages
Any Shopping on-board
Charges of the Casino Games
Any Venue Rentals for the usage of public spaces for private events
Any kind of Team Building Activities
Any kind of private Performance by the Ships Troupe / Crew
Any kind of events to be planned.
All Shore Excursions
A lot of first time cruisers choose an inside cabin (an internal cabin without a window) solely due to their budget or simply because they spend maximum time at the lounge, spa, deck or activity area and only require a room for sleep and changeover. However you will be surprised to know that there is normally a very small difference to upgrade to an oceanview cabin (cabin with a view). For a whole different experience think about upgrading to a balcony cabin or mini-suite. In life, few things are worth spending a little extra money on, and a cabin with a balcony or mini-suite is worth everything. Trust us!
Choice and availability are best when booked early. Oftentimes certain categories of cabins sell out; especially during peak seasons, so the sooner you can book the better.
Sailing aboard such beautiful cruise liners is no more only for those with deep pockets. The myth that cruising is only for rich people does not exist anymore. Cruising is very affordable today. In fact a positive characteristic of Jalesh Cruises is its relatively affordable cost. Leading prices for Jalesh cruise packages start from INR 10,000*. For instance; compare a Mumbai to Goa cruise against a non-all inclusive resort. On a cruise vacation, your meals, accommodations, entertainment, and most activities are included in the fare. Therefore, it's easy to stick to your budget. Plus, on a cruise you get to visit many different ports of call. Unpack once and settle in for a journey that takes you anywhere you want to go.